09 Jun

"Split-Inteins Show Potential for Overcoming Gene Therapy Limitations in Muscular Dystrophy Treatment"

Researchers from the University of Washington and University Hospital Heidelberg have developed new research advances in the treatment of muscular dystrophy using split intein-mediated protein trans-splicing, that allow for the production of functional dystrophin proteins in vitro and in vivo.

Muscular dystrophy is a genetic disorder that causes progressive muscle weakness and wasting. It is caused by mutations in the genes that produce dystrophin, a protein that helps to maintain muscle structure and function. There are several different types of muscular dystrophy, each caused by mutations in different genes.

One of the most common forms of muscular dystrophy is Duchenne muscular dystrophy (DMD), which affects approximately 1 in 5,000 males worldwide. DMD is caused by mutations in the DMD gene. Without functional dystrophin, muscle cells become damaged and eventually die.

Current treatments for DMD are limited and focus on managing symptoms rather than addressing the underlying cause of the disease. However, recent advances in gene therapy have shown promise for treating DMD by replacing or repairing the faulty DMD gene.

One approach to gene therapy involves using adeno-associated viral (AAV) vectors to deliver a functional copy of the DMD gene to muscle cells. However, AAV vectors have a limited packaging capacity (~4.7 kb), which makes it difficult to deliver large genes like DMD.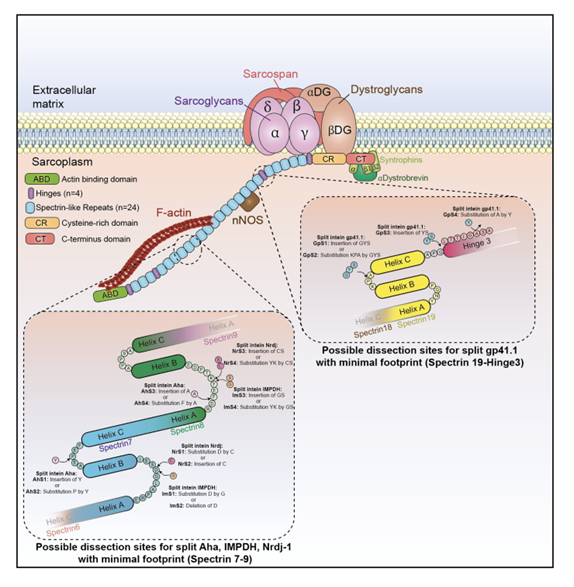 FIG.1 Illustration splitting sites tested with triple AAV vector strategy to express the full-length dystrophin. Source: "Split intein-mediated protein trans-splicing to express large dystrophins"; https://www.researchsquare.com/article/rs-2924001/v1
To overcome this limitation, the researchers developed a novel method for expressing large dystrophins using split inteins. Inteins are self-splicing proteins that can be used to join two or more protein fragments together into a single functional protein.
The researchers identified several split intein pairs that could efficiently join two or three fragments and generate either a large midi-dystrophin or the entire full-length dystrophin protein. They tested these split inteins both in vitro and in vivo using mouse models of DMD.
The results of the study showed that split intein-mediated protein trans-splicing could be used to produce functional dystrophin proteins in vitro and in vivo. The researchers believe that this technique could lead to new treatments for DMD and other forms of muscular dystrophy in the future.
More information in: "Split intein-mediated protein trans-splicing to express large dystrophins";
https://www.researchsquare.com/article/rs-2924001/v1